Manufacturing
Electronics, Robotics, & Automation
Learn the technical knowledge and hands-on skills for careers in robotics, electronics, communications, and electronics fabrication.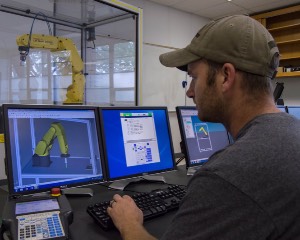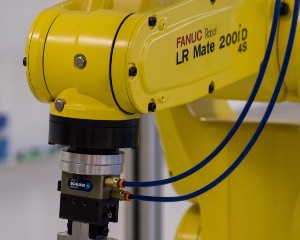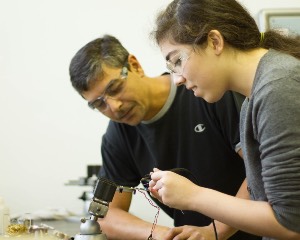 With a mixture of in-class instruction and hands-on training, students receive comprehensive training in installation, fabrication, testing, maintenance, and repair of computers, electrical systems, electronics, and robotics systems.
ERA technicians are employed in a variety of careers and are vital to many high technology industries. Graduates have found employment in positions within the computer industry, audio and pro-audio industry, test equipment manufacturing and calibration, automation and motor control, and the computer networking segment of the electronics industry.
ERA Education Plan
Degree: Associate in Applied Science
Emphasis: Electronics, Robotics & Automation
Total Credits: 91-93
First Year
Fall Quarter

TRDS 101 Career & College Success - 3 credits
TRDS 100 Industrial Safety - 5 credits
TRDS 120 Mechanical Systems - 5 credits
IT 117 Intro to Windows OS* OR BTEC 214 Excel I** - 3-5 credits

Winter Quarter

TRDS 140 Fluid Systems - 5 credits
TRDS 180 Electrical Systems - 5 credits
HLTH 145 Safety & Fitness* - 3 credits

Spring Quarter

BTEC 191 Work Experience Seminar - 1 credit
DET 102 Forklift* - 1 credit
ENGL& 101 English Composition I* OR WRT 105 Writing in the Workplace* - 5 credits
ERA Program Electives*** - 7 credits
Second Year
Fall Quarter

ERA 117 Advanced AC/DC Electronics - 4 credits
ERA 170 Solid State Electronics - 4 credits
MEC 270 Industrial Robotics - 5 credits
ERA 212 Digital Electronics - 4 credits

Winter Quarter

ERA 230 Robotic Controllers - 4 credits
ERA 240 Amplifiers - 5 credits
MEC 260 Allen Bradley PLCs - 5 credits

Spring Quarter

ERA 235 Communication Sytems - 3 credits
ERA 276 Robotics Capstone - 3 credits
MEC 220 Sensors & Instruments - 5 credits
* Course can be taken during summer quarter
** Suggested for AAS ERA students
***ERA Program Electives - TRDS 150, TRDS 160, ERA 119
Centralia College offers two similar programs - Energy Technology and Mechatronics.
Energy Technology
The Energy Technology program offers training in traditional sources of power generation as well as renewable energy and energy efficiency.
Mechatronics
Mechatronics exposes students to computer operation, networking and repair; mechanical and hydraulic system design and maintenance; industrial robotic programming and simulation; Allen Bradley and Siemens control system programming; and electronics troubleshooting, instrumentation, and repair.
Contact

Career & Technical Education




Tech (TEC) Building, Room 114




360-623-8963


cte@centralia.edu
Aman Gill
Assistant Professor
Office: TEC 158
360-623-8398
Email Aman Gill