Nursing Assistant (CNA)
Nursing Assistant Certified
Commonly referred to as CNAs, Nursing Assistants work directly with patients in hospitals, clinics, and nursing homes.
NACs are qualified to work under the direction of registered nurses and licensed practical nurses and assist in the care of clients in hospitals, clinics, and nursing homes.
Graduates learn to maintain a safe environment for the client, provide restorative care, and communicate with clients, and understand basic concepts of care.
High Pass Rates on Certification Exams
The Nursing Care Quality Assurance Commission's Nursing Assistant Program Approval Panel in April 2023 identified the Centralia College NAC program as one with pass rates above 80 percent for 2021 and 2022. CC's pass rate was 88.9 percent in 2021 and 96 percent in 2022.
Included Certifications
Students will earn state credentials in specialty training courses Dementia, Mental Health, Nurse Delegation, and Special Focus on Diabetes.

Students will also receive their BLS credential through the co-requisite course.

Students will get their Nursing Assistant Registered credential while in the class.
Program Length
The NAC program takes 10 weeks to complete. Students earn 12 credits and 168 hours.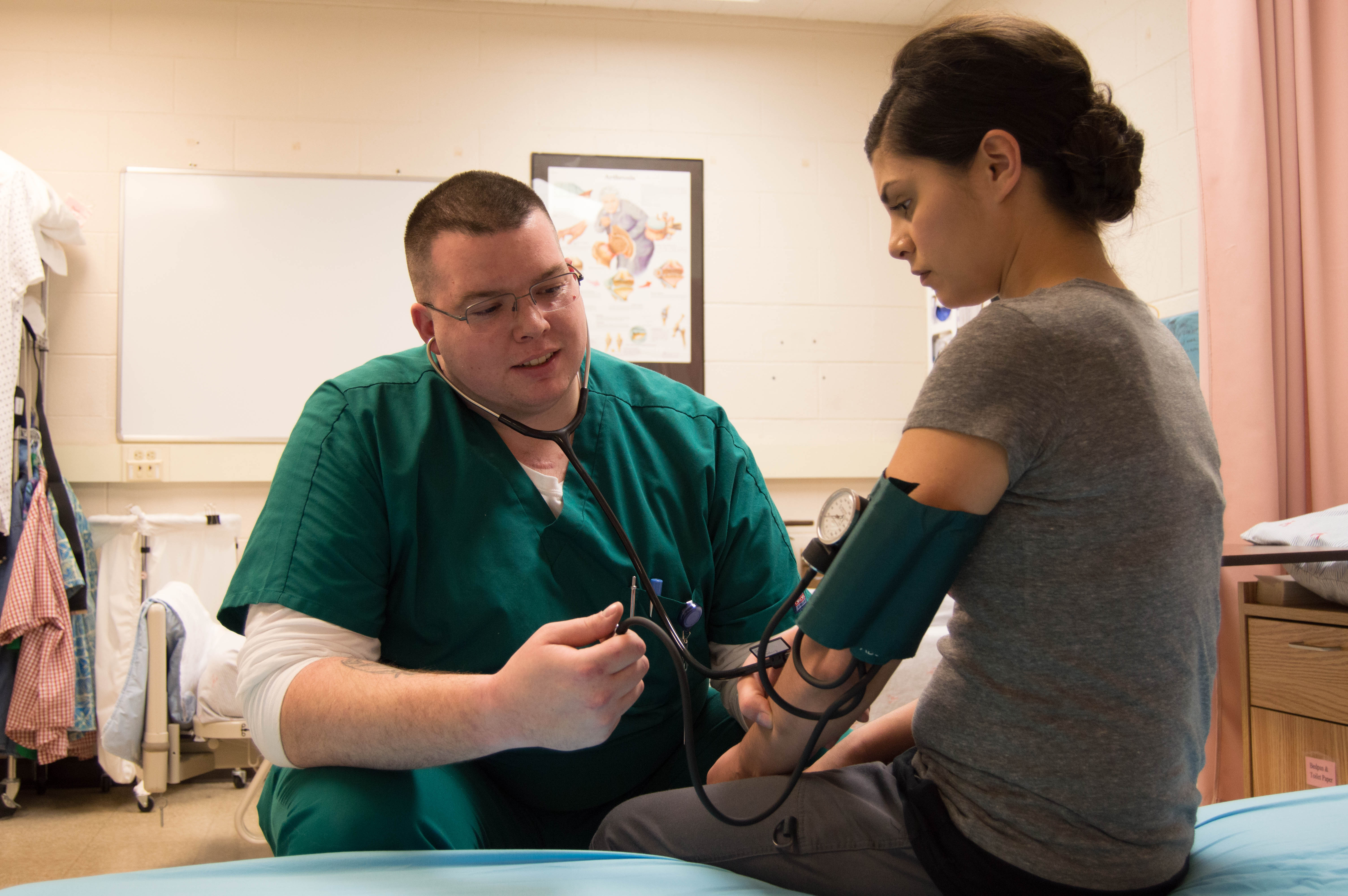 Program Certification
This course is approved and certified by both the Washington State Department of Health and Department of Social and Health Services. Upon successful completion of the Nursing Assistant Certified training program, students are eligible to take the National Nursing Aide Assessment Program (NNAAP) exam and to become licensed in Washington State.
NAC Duties
Turn and reposition bedridden clients, alone or with assistance, to prevent bedsores
Answer clients call signals
Feed clients who are unable to feed themselves
Observe clients conditions, measuring and recording food and liquid intake and output, vital signs and report changes to professional staff
Provide clients with help walking, exercising, and moving in and out of bed
Bathe, groom, shave, dress, and/or drape clients to prepare them for surgery, treatment, or examination
Collect specimens such as urine, feces, or sputum
Prepare, serve and collect food trays
Clean rooms and change linens
Frequently Asked Questions
There is no application to enter this program. You do not need to attend academic advising and you do not need to take any placement tests, unless you are pursuing further education into the Registered Nursing (RN) program.
Once registration opens, you need to register for the class schedule that works best for you. Classes often fill up quickly after registration opens. Be sure that you are ready to register on the correct day and at the right time .
There are no prerequisites for the NAC program.
No, neither is required to enter the NAC program. However, it may help you be more competitive in the job market.
Yes, you can call the Career & Technical Education Office (360-623-8963) to be placed on an interest list. We call students on a first-come, first-served basis from the interest list if an opening occurs.
An opening may occur on the first day of class, so students need to be prepared to register, pay, and attend class the next day after being offered the opening. Students will not be added after the third class day.
No, we do not offer online classes for the NAC program. This program is a combined lecture and skills course, requiring students to be present in the classroom and learning lab.
No, we do not offer job placement for our students, and we also do not have job placement rates for our students. However, some students do get hired at our clinical facilities. Many other facilities in the area express interest in our students. A job posting board is located in the Technology Center room 114.
We do not recommend this program for anyone under the age of 17. Most nursing facilities only hire NACs who are 17-years old or older.
Contact

Career & Technical Education




Tech (TEC) Building, Room 114




360-623-8963


cte@centralia.edu
Lorri Speer
Program Director/Faculty
Office: SWFT Center
360-623-8619
Email Lorri Speer