Emergency Medical Technician (EMT)
Emergency Medical Technician (EMT)
Centralia College offers an EMT training program through Career & Technical Education.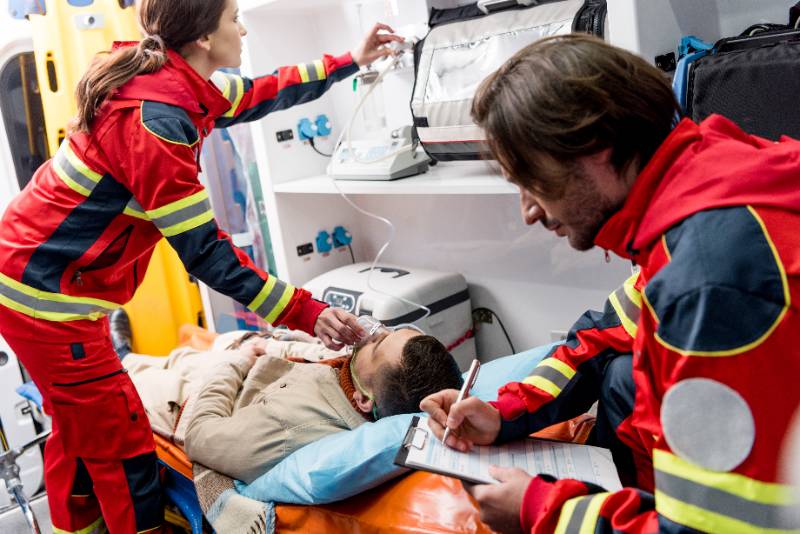 Emergency Medical Technicians evaluate and treat ill and injured patients on scene or en route to a medical facility. They administer health services, treat injuries, and respond to medical emergencies.
Centralia College's Emergency Medical Technician course is for students who wish to pursue a career in emergency care.
Fall 2023 Course
Registration is now open for the fall EMT course.
Course Details
Sept. 14, 2023 - Jan. 20, 2024
5:30-10:30 pm Tuesdays & Thursdays and select Saturdays (TBD)
Southwest Washington Flexible Trades Center (FTC) 108/110
Centralia College Campus
How to Register
Download and complete an EMT Registration Packet (pdf).
Bring it to the CTE Office at Centralia College (TEC 115, 301 S. King. St., Centralia) between 8am-5pm Monday-Thursday (closed Fridays, weekend, and holidays during the summer).
Note: Enrollment in the program without sponsorship is limited to spaces that remain after students with sponsorship have been enrolled. Individuals without sponsorship will not receive state certification until they becoming funcitoning members of one of the identified agences.
Employment for Emergency Medical Technicians is in demand. According to the U.S. Department of Labor, employment projections forecast Emergency Medical Technician jobs growing at a rate of 15 percent with a median wage estimated at $22.41 per hour.
There are no prerequisite courses.
You do not need to be a Centralia College student.
You must be at least 18 years of age within one year of the completion date.
Although the college does not require a COVID-19 vaccination, our medical partners do. You MUST be vaccinated for Covid-19 to take this class.
Contact
Career & Technical Education
Tech (TEC) Building, Room 114
360-623-8963
cte@centralia.edu