Nursing Graduate Serves COVID-19 Patients in NYC
CC Nursing Graduate Serves COVID-19 Patients in NYC
There was a time when she couldn't envision herself going to college much less becoming a nurse, but all that changed when she decided to take one small step and apply to become a certified nursing assistant.
Meet Keri Buehring, proud graduate of the Centralia College Registered Nursing program and Class of 2017.
Buehring has always loved helping people and feels it is her calling. In the past, she had office jobs and found them satisfying, but she kept coming back to the idea that nursing would be the ultimate career for her. After some gentle encouragement - and a bit of prodding from family and friends - Buehring decided to take one small step and get her Certified Nursing Assistant (CNA) degree. If she was successful, she knew she could always take the additional courses needed for a RN degree.
The Texas native was living in Yelm and took a good look at the programs offered at Centralia College, where she knew there was a strong track record of excellence in the nursing program. "It was a highly rated program with a good student to teacher ratio, and it was close to home, which was a bonus," said Buehring.
Everything she had researched about the program was true and the instruction was exactly what she had hoped for. Instructors were enthusiastic and willing to help whenever needed, advisors offered support, and her fellow 31 nurses-in-training became trusted mentors, friends, and a strong support group. Buehring was also happy with the resources provided by the college, including the array of equipment and simulators in the nursing lab.
Although everyone in the nursing program helps the student succeed, several instructors had an extra-strong impact on Buehring. Teneal Gustafson was always there to support the students, giving reaffirmation about their goals and purpose. Mary Capen also played a leading role as she shared stories about her path through nursing. Buehring was considering a career in the surgery department and Capen shared her experiences in that field.
Gustafson said of Buehring, "Keri was such an enthusiastic student! Her passion for patient care was evident in every encounter. I am so proud to have been a part of her education."
Capen also spoke highly about her, saying, "Keri was such an engaged and kind student nurse. She had a passion for understanding each new topic and her enthusiasm for learning was an inspiration to her classmates, as well. She had a smile that always brightened the day regardless of how early the morning may have been in clinical. Her heart for nursing makes being a nursing instructor a rewarding career. It doesn't surprise me that she dropped everything to help those in need in New York. Nursing is a family and she is a team player!"
After graduation, Buehring moved back to her native Texas to be closer to family. Currently, she serves in a surgery center, where she serves as an operating room nurse. Her routine changed when the coronavirus started becoming a stressor to the hospitals in New York City. Buehring had been keeping track of the news and the reports of the need for nurses back east, especially crisis nurses. Again, she felt the call to help, and her own workload had slowed down due to the cancellation of many of the surgeries at her center.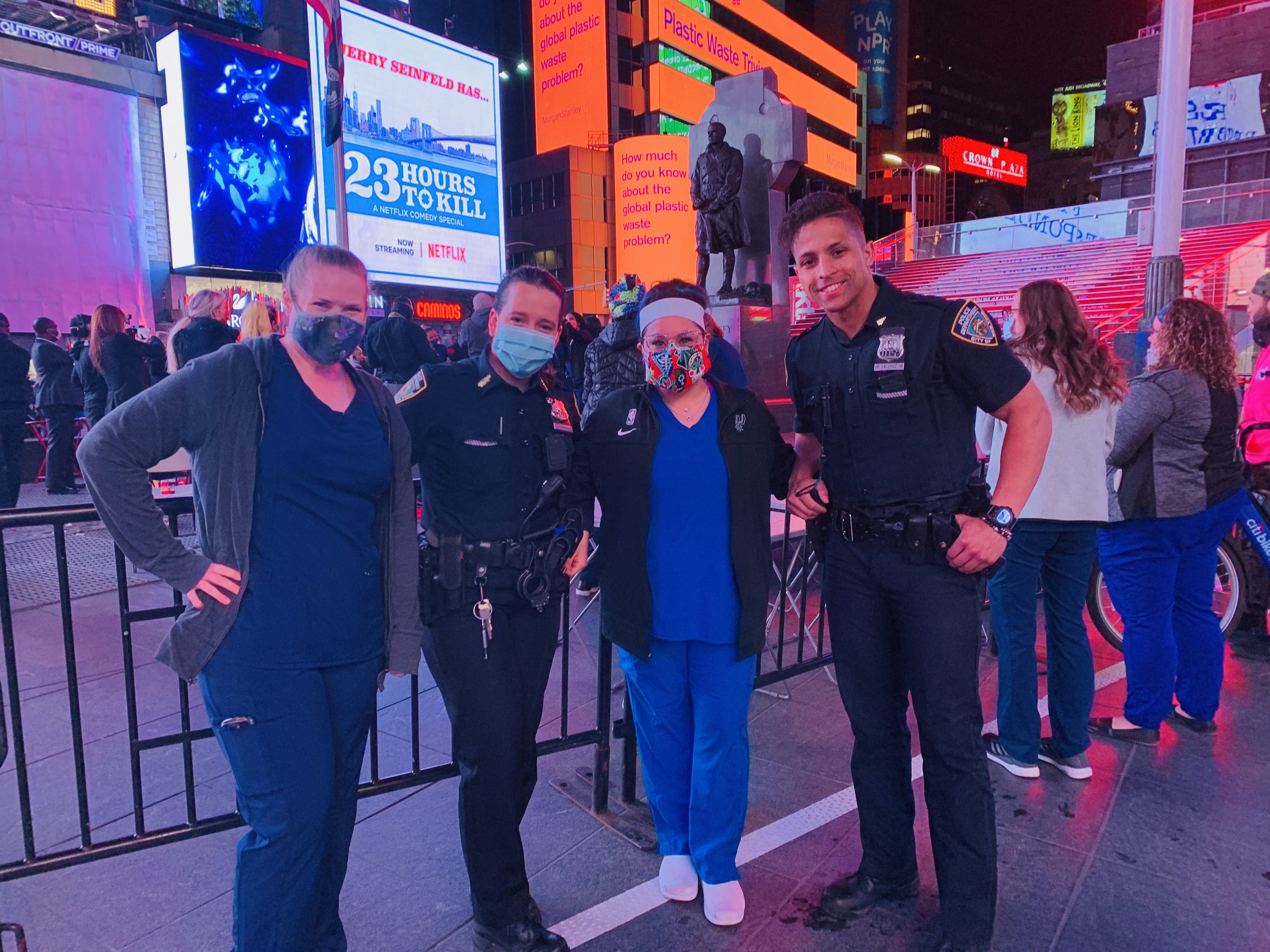 Buehring had a number of long, thorough discussions with her family and her supervisor and, with their strong support, made the decision to take a 21-day tour. We're not talking about a "tour" to New York City in the traditional sense - there were no Broadway plays or Yankee games on the schedule - this was to be difficult work.
And difficult it was. With the affirmation that her family was there for her and her husband would listen to her each day and help her de-stress, that was all the support she needed. Buehring flew to New York and spent the first day learning how the program would work and the protocols the visiting nurses needed to follow. She first worked at a hospital and then a long-term care facility. The nurses working alongside her were from all over the country and many were not working in their normal "job," which fostered an environment of collaboration among them as they supported and replace the staff from the facility.
Buehring's typical day consisted of rising at 4:45 a.m. and loading onto an appointed bus by 5:45 a.m. with all of the other visiting nurses to be delivered to their assignments. She would work her shift from 7 a.m. to 7 p.m. and then catch the bus back to the hotel where they were staying. By 8:30 p.m. they would be back at the hotel to shower and catch some sleep before repeating again – for 21 straight days! After her first tour, Buehring took a few days off, then re-signed for another 21 days.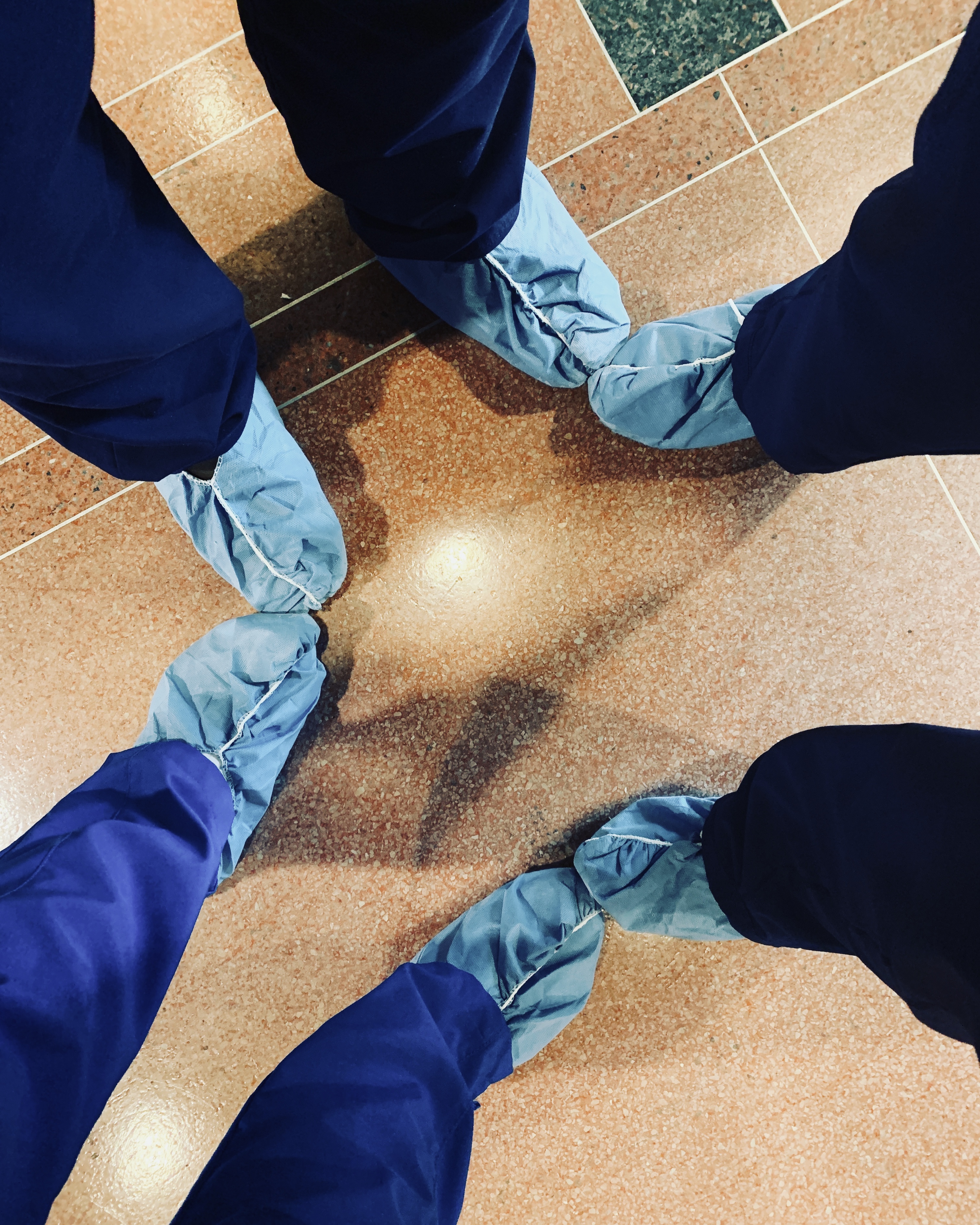 When asked what she was doing to relieve the stress, Buehring replied, "When you are working 84 hours a week, there really isn't time to stress, you just do your job."
One of the shining moments that inspired her and her comrades to carry on was watching patients recover. One in particular, at the long-term care facility, was very ill. Watching him struggle to regain his strength and heal a bit more each day was wonderful. He worked hard and celebrated each accomplishment, no matter how small. Buehring related that to watch his progress from working just to breathe on his own to walking down the hallway was very rewarding. It was reaffirmation that she chose wisely in her career path.
When we spoke in late May, Buehring indicated that the number of patients had declined in New York City and the need for visiting nurses was slowing. She anticipated that she would be headed home soon, back to family and friends. Now though, she has the additional lifelong friends who she worked with in NYC.
Buehring stressed that she could not have done all of this without Centralia College. She is a first-generation college graduate and the support and help she received from the staff at the college got her through each stage to the next and then to commencement and her career.
The people of Centralia College made a difference in Keri Buehring's life. Now Keri passes that on by making a difference in the lives of others.