Class of 2020
Class of 2020
Congratulations, Blazers! You did it!
ASCC President Aaron Fowler shares his congratulations and words of hope for the Class of 2020.
Singer/songwriter Jimmy Ritchey, winner of the 2020 Distinguished Alumnus Award, shares a coronavirus song he wrote especially for CC's Class of 2020.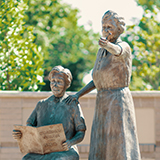 The Centralia College Trustees share messages of appreciation for your strength, grit, and determination.
2020 Outstanding Student Awards
Chander Cardenas is graduating with her bachelor's degree in Applied Management. Not only is she an exceptional student, she is a respected student-worker in the president's office. She's a dedicated mom and a brave and compassionate person. Knowing Chander personally through her work at the college, I know she's going to accomplish amazing things.
Lisa Chapman is graduating with her associate in arts degree. She has a perfect 4.0 GPA and has been a speech club officer and an active member of the state 4H program. She also helps run a family farm and care for her siblings.
Lauren Marcoux is graduating with her bachelor's degree in Applied Management. This past year, she became a first-time mom and, in spite of this dramatic life change and some challenges, she has continued with her education and meeting her goals. She's been an inspiration to staff across campus.
Zachary Nguyen is graduating from the construction trades apprenticeship program. Not only is Zachary at the top of his class academically, he is an inspiring and motiving individual. He serves as a teacher's aide and has proven himself a capable and gifted leader. His teacher praised his hunger for knowledge and commitment to growth.
Matthew Rounsley is graduating with his associate in arts degree with an emphasis in political science. He serves as both CC's chapter president and the regional chapter president for Phi Theta Kappa, the honors society for two-year college students. He also completed an internship at the state legislature earlier this year. He is an exceptional student with a genuine interest in making the world – and politics – a better place.
2020 Graduates
See any mistakes?
We do the best we can, but sometimes mistakes are made. If you see a misspelled name, a photo error, or typo, contact us at webmaster@centralia.edu and we'll make it right! Thank you!