Robert O'Neill Natural Area (RONNA)
Robert O'Neill Natural Area (RONNA)
The RONNA is a 30 acre forested property located in the River Heights area just minutes from the Centralia College campus. The property includes graveled walking paths, a variety of native Pacific Northwest flora and fauna, and a seasonal creek.
This property is available for use and study by students at Centralia College, to enhance biology and environmental coursework.
Community Support
The southern 16 acres of the RONNA was turned over to the Centralia College Foundation in the fall of 2010 by the Evergreen Charitable Trust, which originally received the land from friends of the college and longtime Centralia residents Robert and Doris O'Neill for the purpose of conservation and study by the College.
Along with this gift of nearly a quarter million dollars in land was a large endowment to help maintain this property in perpetuity. This endowment continues to support maintenance of the RONNA to this day.
The northern sections of the RONNA were added between 2010 and 2021. These parcels were donated, purchased, or acquired as easements from neighbors to the RONNA project.
The Foundation has been thrilled with the support of this project from neighbors to the parcel, and community backing has helped us realize the dream of having a 30-acre outdoor lab for students to explore.
The RONNA as a Natural Lab
The habitat, with more than 120 different species of vegetation including old growth trees, will continue to serve as a natural outdoor learning and research environment for the college and will be accessible to property neighbors.
Of his efforts to see the land turned over to the college, Bob O'Neill noted that, "the land is regarded as a permanent natural area," and that "the Evergreen Charitable Trust recognized that the college's foundation is much closer to the property and would be in a better position to maintain the land and has agreed to hold to the original plan to keep it as a natural area that would also be available for academic research."
The RONNA Supports College SUstainability Goals
Centralia College values stewardship and sustainability, and has been a local leader in environmental efforts. The RONNA is part of the college's ongoing work toward carbon sequestration. According to the University of California-Davis, "about 25 percent of global carbon emissions are captured by plant-rich landscapes such as forests, grasslands and rangelands. When leaves and branches fall off plants or when plants die, the carbon stored either releases into the atmosphere or is transferred into the soil. Wildfires and human activities like deforestation can contribute to the diminishment of forests as a carbon sink."
Maintaining rich, forest landscapes is one way to capture and store carbon dioxide, and is widely considered an essential part of mitigating climate change.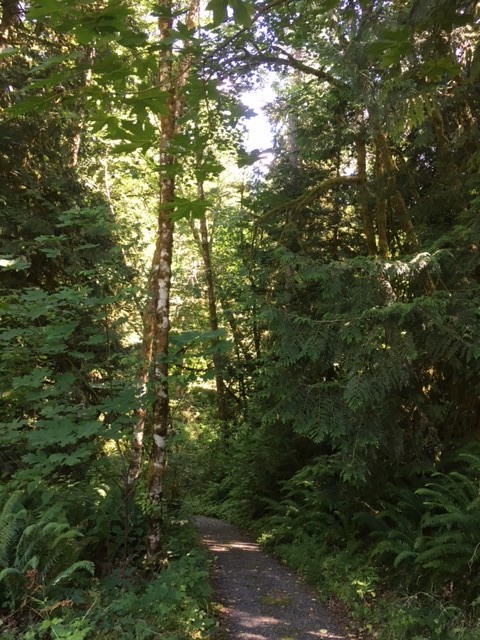 Special Thanks To
Robert and Doris O'Neill
Evergreen Charitable Trust
Foster and Cheryl Bucher
Chuck Higgins and Nanette Reber
Keith and Renee Anderson
David and Sandy Fick
Dale and Patti Luger
Raymond and Susan Boyajian
Mary DuBois
Mark Scheibmeir and Wendy Tripp
Robert and Anita Dudra
Daniel and Jennifer Hoinowski
John and Patricia Zimmerman
CONTACT THE FOUNDATION
Centralia College Foundation
600 Centralia College Blvd
Centralia, WA 98531-4099
360-623-8942
ccfoundation@centralia.edu