Industrial Trades
Industrial Trades
Centralia College's Industrial Trades certificate includes basic training needed for Diesel Technology, Electronics, Robotics, and Automation (ERA), Energy Technology, and Welding. It is a common first year of classes that ends with an Industrial Trades Certificate.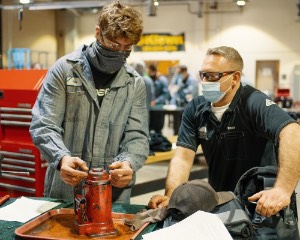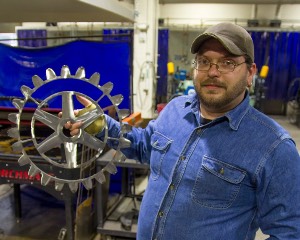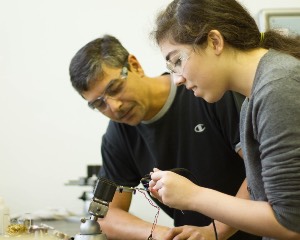 The common first year includes foundational classes, such as math, physics, and writing, and hands-on labs that offer basic welding, and electrical and mechanical systems. You will be introduced to all four industries and have more exposure to gears, fluids, and pumps than what was previously offered.
If you choose to continue studying to obtain your associate degree, you can decide which of the four trades to focus on during their second year. Centralia College is the only community and technical college that offers a common first year for four different industrial trades.
At the end of the first year, students with grades above a 2.0 will receive an Industrial Trades Certificate. The certificate confirms they have learned the skills and they may be hired to work as an entry-level mechanic assistant, robotics assistant, or millwright.
If they choose to go to work after completing the first year, they may add additional Industrial Trades classes to increase their skills and abilities.
Industrial Trades EDUCATION PLAN
Degree:Certificate of Proficiency
Emphasis: Industrial Trades
Total Credits: 48
First year
Certificate of Proficiency - Industrial Trades
Fall Quarter

TRDS 100 Industrial Safety - 5 credits
TRDS 110 Mechanical Systems Lab - 2 credits
TRDS 120 Mechanical Systems - 3 credits
HR 101 Human Relations 101 - 2 credits
ENGL& 101 English Composition I OR WRT 105 Writing in the Workplace - 5 credits

Winter Quarter

TRDS 130 Fluid Systems Lab - 2 credits
TRDS 140 Fluid Systems - 3 credits
TRDS 150 Print Reading - 2 credits
IT 117 Intro to Windows OS* - 3 credits
HLTH 145 Safety & Fitness** - 3 credits

Spring Quarter

TRDS 160 CAD for Industry - 2 credits
TRDS 170 Electrical Systems Lab - 2 credits
DET 103 Forklift* - 1 credit
HR 110 Human Relations in the Workplace* - 5 credits
TRDS 180 Electrical Systems - 3 credits
Welding Elective (WELD 151, 180, 181, or 182 recommended) - 5 credits
* Courses may be taken during summer quarter.