Communication Studies
Communication Studies
Welcome to the Communication Studies Program at Centralia College.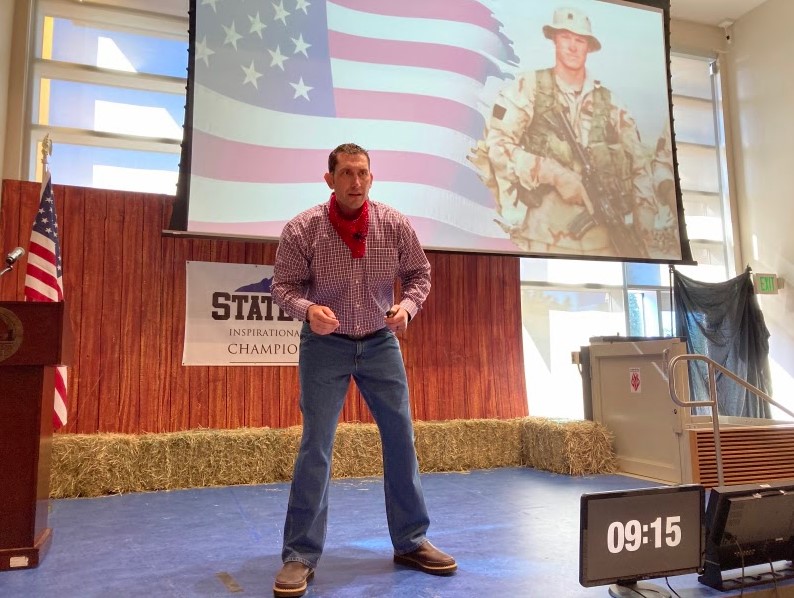 Bloomberg Media surveyed 1,320 job recruiters at more than 600 companies to find out which skills employers want but can't find, and communication skills were in the top three (Levy and Rodkin, 2015).
Creative problem-solving and strategic thinking were the other two hard to find skills in college graduates. With this in mind, we believe that a degree in Communication Studies – complemented with some of our business courses - can be your key to success.

Centralia College has a long history of successful Communication Studies students, including several debate teams that were tops in the Northwest, and state champion public speakers. And every summer the college hosts the Statewide Inspirational Speech Championship, where students from all 34 community colleges come here to compete for the state championship.
Here are just a few examples of fun careers for Communication Studies majors:
TV or radio

Sports team

Crisis communication (putting out fires for big companies)

Journalist for an online newspaper or magazine

Social media manager

Marketing or public relations for a company whose interests parallel yours
Oprah Winfrey (TV Host)

Mathew McConaughey (Actor)

John Gruden (Head Coach, NFL)

Stephen Colbert (TV Host)

Howard Stern (TV and Radio personality)

J. Cole (American rapper)
Degree: Associate in Arts
Emphasis: Communication Studies
Notes for Students
Students are required to complete 3-5 credits in a Diversity course (D). A list of courses that satisfy the Diversity Requirement can be found in the college catalog.
It is strongly recommended that students confer with an advisor at their potential transfer institution to determine the Communication Studies courses that best support or may be prerequisites for their program. This Educational Plan can possibly be modified to meet their requests.
First Year
Fall Quarter

CMST& 220 Public Speaking - 5 credits
CMST 250 Intercultural Communication - 5 credits
Humanities Distribution* - 5 credits

Winter Quarter

CMST 104 Racism, Sexism, & Media - 3 credits
ENGL& 101 English Composition 1 - 5 credits
MATH& 146 Introduction to Stats - 5 credits
Health & Fitness Distribution - 3 credits

Spring Quarter

CMST& 102 Intro to Mass Media - 5 credits
ENGL& 102 Composition II - 5 credits
PSYC& 100 General Psychology - 5 credits

Notes

* Fall Quarter, First Year choose a Humanities course: ART 110 2D Design, ART& 100 Art Appreciation, ART 130 Computer Graphics, ENGL& 111 Intro to Literature, or ENGL 208 Intro to Creative Writing
Second Year
Fall Quarter

CMST 240 Advanced Public Speaking - 5 credits
PHIL 130 Intro to Ethics - 5 credits
Natural Science Distribution - 5 credits

Winter Quarter

CMST 110 Social Media Communications - 5 credits
Natural Science Distribution w/Lab - 5 credits
Social Science Distribution - 5 credits

Spring Quarter

CMST 130 Debate - 5 credits
Natural Science Distribution - 5 credits
Social Science Distribution - 5 credits
CMST& 102 Intro to Mass Media (5 credits) (H)
A survey of the mass media in America: newspapers, magazines,books, recorded music, radio, television, motion pictures, the World Wide Web: with emphasis on structure, function, audience, content, effect and social responsibility.
CMST 104 Racism Sexism Media (3 credits) (D) (H)
Examine issues of race and gender in the media from both an historical and a current perspective.
CMST 110 Social Media Communications (5 credits) (H)
Students learn how social media is used in the business world to communicate with employees and external stakeholders, as well as advertising and marketing.
CMST 130 Debate 1 (5 credits) (H)
Students will learn to analyze, construct and deliver arguments on controversial topics using supportive evidence to respond to opposing viewpoints.
CMST& 220 Public Speaking (5 credits) (H)
Apply methods for managing speech anxiety, holding attention and making points in a variety of public speaking situations, including techniques for being credible and ethical. Communication theories and interpersonal skills also studied.
CMST 240 Adv. Public Speaking (5 credits) (H)
Build upon the skills learned in an introductory public speaking course. Become prepared to present in professional settings and lead effective business meetings as an audience-centered communicator. Prerequisite: CMST& 220 or instructor permission.
CMST 250 Intercultural Communication (5 credits) (H) (D)
Students will explore the dynamics of intercultural communication; how variables such as perceptions, language usage, nonverbal style, gender, class, and values influence face-to-face communication among individuals of different cultures; and strengthen communication skills.
Centralia College has direct AA-degree transfer agreements with the following colleges: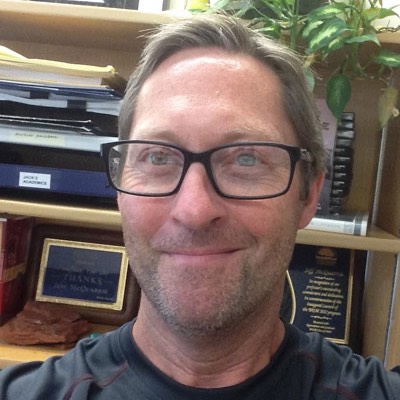 Jeff McQuarrie -
Program Lead
"The great thing about getting a degree in Communication Studies is that you can do almost anything with it. I know lawyers, news anchors, social media managers and politicians who majored in Communication Studies, just to name a few. It's a degree that doesn't pigeon hole you into a career that you may end up not liking."
Professor McQuarrie heads up the Communication Studies program. He teaches beginning and advanced public speaking courses, Debate, and Mass Media and was the first professor in the state system to teach Public Speaking fully online. At the bachelor's level, he teaches Marketing and Communication courses.
Prior to teaching, Professor McQuarrie was president and marketing director of a popular world-class fishing resort in Alaska for 14 years, followed by eight years as principal of a marketing firm. During that time, he produced a highly-acclaimed six-hour documentary film about legendary football players.
Professor McQuarrie holds a Master of Science degree in Corporate Communication from Northeastern University in Boston. He serves on the leadership team at his church and is the director of the Statewide Inspirational Speech Championship (Washington state championship for public speaking). In 2017, he earned the Exceptional Faculty Award.

Wade Fisher - Professor
"I really enjoy helping students discover how much potential they have and then guiding them to reach that potential."
Professor Fisher grew up in Lakewood. He started his broadcasting career in Aberdeen, then quickly moved on to the Seattle market where he worked at a number of radio stations as an announcer. He was the operations director at an NPR radio station and provided talent work for the PBS affiliate station. He has worked on two feature films and taught at a private broadcasting school. Prior to coming to Centralia College, he taught at Bates Technical College.
Professor Fisher has an AA from Pierce College, where he served as Student Body
President. He earned a BA in Communications from the University of Washington and an MBA with an emphasis in leadership management and training from City University of Seattle.
Austin Majors -

Professor
Professor Majors spent his childhood in the beautiful Columbia River Gorge, where he learned to love swimming, biking, and even cliff jumping. After moving and then graduating from Onalaska, he attended Centralia College, where he earned his A.A. degree. Transferring to obtain his B.S. in Psychology with minors in both Sociology and Communications brought him to the beautiful Palouse and Washington State University. At WSU, he helped plan entertainment for the college and got to book and meet popular musicians and artists. After graduating, he began his career in higher education as a Student Success Specialist for the TRiO programs. Austin then earned his Master's Degree from Gonzaga University in Communications and Leadership.
CONTACT
Jeff McQuarrie
Program Lead
Office: WAH 221
360-623-8494
Email Jeff McQuarrie