STP at Centralia College
STP Midpoint at Centralia College
Centralia College is the official midpoint for the Kaiser Permanente Seattle to Portland Bicycle Classic presented by Alaska Airlines. This year's event is July 15-16, 2023.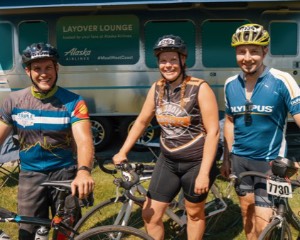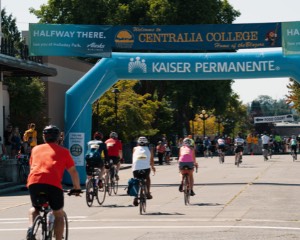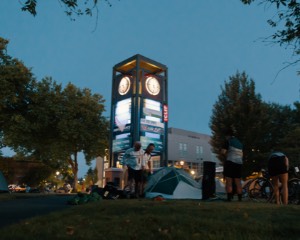 Overnight Accommodations
Reservations for overnight accommodations have not yet opened for 2023. Additional information will be posted as it is available.
Gymnasium Indoor Overnight
Roomy (5-feet wide) spaces inside our modern, comfortable gym.
$45 the day of the event, first come, first served
Shower and towel rental included. (Does NOT include breakfast.)
Please bring a sleeping bag, pad, air mattress, etc. (limited to a 5-ft. wide space).
Other Campus Amenities
A beer garden, vendors, food for purchase, live entertainment, and sponsor booths will all be on-campus.
Food Court
Dick's Brewing is hosting the beer garden.
This year's vendors include:
Big T BBQ
Burger Claim
Frying Dutch Girl
Mountain View Wood Fired Pizza
Kona Ice of Yelm
Sofie's Scoops
Tour de France Broadcast
The Tour de France will be broadcast and replayed in the TransAlta Commons Cafeteria next to the beer garden.
Sunday Breakfast
Breakfast opens at 4am Sunday in the TransAlta Commons Cafeteria. Breakfasts will be boxed for eating onsite or available for carryout. A small breakfast box will be $7. A large breakfast box will be $10. Breakfast can be purchased on Saturday or Sunday. All proceeds support student athletics programs.
Additional details will be available closer to the event.
The bike corral is located behind the Kirk Library. The Centralia Police Department provides 24-hour security for bikes in the corral. Fee is $10.
If, after arriving at the midpoint, you find that you need a ride to your scheduled overnight pit stop, please check with the gym staff about van transportation for you and your bike. Cost will vary depending on distance.
Transportation will be provided by the public bus system to various locations in Centralia, such as Centralia Thorbecke's Fitlife Center, Nazarene Church, hotels, restaurants, shopping centers, and antique malls. We recommend placing your bike in the bike corral if you intend on using the public bus system.
Showers
Showers are available in the Michael Smith Gymnasium. Cost is $5 and includes use of a towel. Available 24 hours.
Restrooms
Portable toilets are available on Washington Avenue near the Info Booth and near the Food Court. Restrooms are also available in the TransAlta Commons and Michael Smith Gymnasium. The TransAlta Commons will close at 8pm Saturday and reopen at 4am Sunday. The gym is open 24 hours.
Recovery Station
Therapeutic Associates Physical Therapy will be hosting midpoint recovery services at the Centralia site. Riders are welcome to stop by the booth to work with a physical therapist on any issues that may require a tune-up. In addition to free-injury screenings and light sports medicine services, Therapeutic Associates will be offering foam rolling and stretching stations.
Contact US