International Housing
International Student Housing
Students have three housing options: host family, on-campus housing, or private apartment rentals.
The International Programs staff works hard to locate safe, comfortable, and friendly housing for international students. Carefully consider the options listed below.
Covid-19 Information
Until Covid-19 restrictions are lifted, students in on-campus housing may NOT share common living spaces. Hence, students may have to rent one-bedroom apartments for $600 each. There is a $200 non-refundable cleaning fee and a $200 security deposit, which will be refunded at checkout if the apartment is maintained in good order.
IMPORTANT: For the safety of all residents in on-campus housing, ALL students choosing to live in on-campus apartments may have to show proof of Covid-19 vaccination.
Host Family
Living with a host family is a great way for students to learn about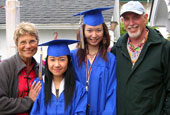 American culture, practice English, and experience daily life in the U.S. Students pay $525 per month for a private bedroom, Wi-Fi, and food. Host family houses are generally within 20 minutes from campus.
Apply for a Host Family To apply for a host family, complete the Host Family section on the International Student Application and pay the $125 non-refundable placement fee.
On-Campus Housing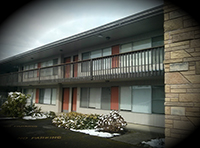 Centralia College has two properties that international students may live in. A student must fill out a housing application and pay a non-refundable $50 application fee. The application is distributed by the International Programs office and turned in to the Residence Life Specialist who will be responsible for assigning the student a room if there is one available.
The incoming student must pay a $350 deposit before arriving on campus and be prepared to pay rent on the day of arrival or on the next business day if arriving during the weekend or after business hours. The student will also sign a Student Housing Contract after arrival and is responsible for paying rent for the duration of their that contract.
Drugs, smoking, and alcohol are not allowed in any college housing.
If interested in living on campus, students should complete the College Housing section of the International Student Application and pay the non-refundable $50 application fee once their visa has been approved.
115 S. Silver Street: There is a one bedroom double occupancy option and two bedroom double occupancy option for the Silver Street apartments.
401 S. Rock Street & 403 S. Rock Street: This is a duplex property that services six residents.
Monthly Rates for Student Housing – Effective July 1, 2019
Apartments, Duplexes:
1 bedroom unit w/2 people: $300/month/person ($600/month) (apartments only)
2 bedroom unit w/2 people: $425/month/person ($850/month) (apartments only)
2 bedroom unit w/3 people: $425/month 1 room; $300/month/person shared room ($1,025/month) (duplex only)
Rent includes water/sewer/garbage and a student housing wireless internet account. A coin-operated laundry room is available at the apartments and the duplexes have washers/dryers in the garage.
Electricity is separately metered for each unit and will be paid by the college and the amount in excess of $50/month or $75/month at the duplexes will be billed monthly to the students to be paid along with the monthly rent amount. There may be a delay for the charges depending on when statements are received from Centralia City Light. The average electricity bills are $50-60/month/apartment with warmer months as low as $30 and colder months as high as $100-125.
Residences are furnished with the following items.
Bedrooms:
Twin long or full sized bed
Mattress frame
Dresser
If space allows in the bedroom a desk and chair
Kitchen:
Refrigerator
Stove/Oven
Microwave
Dining Table and Chairs
Living Room:
Couch
Lounge Chair
Coffee Table
Local Area Apartments
Apartments in Centralia usually have 1-2 bedrooms and are unfurnished. The rent ranges from $550-1,000 per month and typically requires a co-signer in the USA and a refundable damage deposit. Information on finding a local apartment is available in the International Programs office.
CONTACT INTERNATIONAL PROGRAMS
Laju Nankani, Director
Centralia College
600 Centralia College Blvd.
Centralia WA 98531-4099 USA
intlcc@centralia.edu
Phone: +1 (360) 623-8965;