Teacher Education
Teacher Education (k-8)
The Bachelor of Applied Science in Teacher Education (BAS-TE) is designed to prepare teachers who are well grounded in education and training, and are prepared to obtain initial teaching certification in grade K-8 in the state of Washington with a primary endorsement in elementary education. There is also an option of adding a special education endorsement.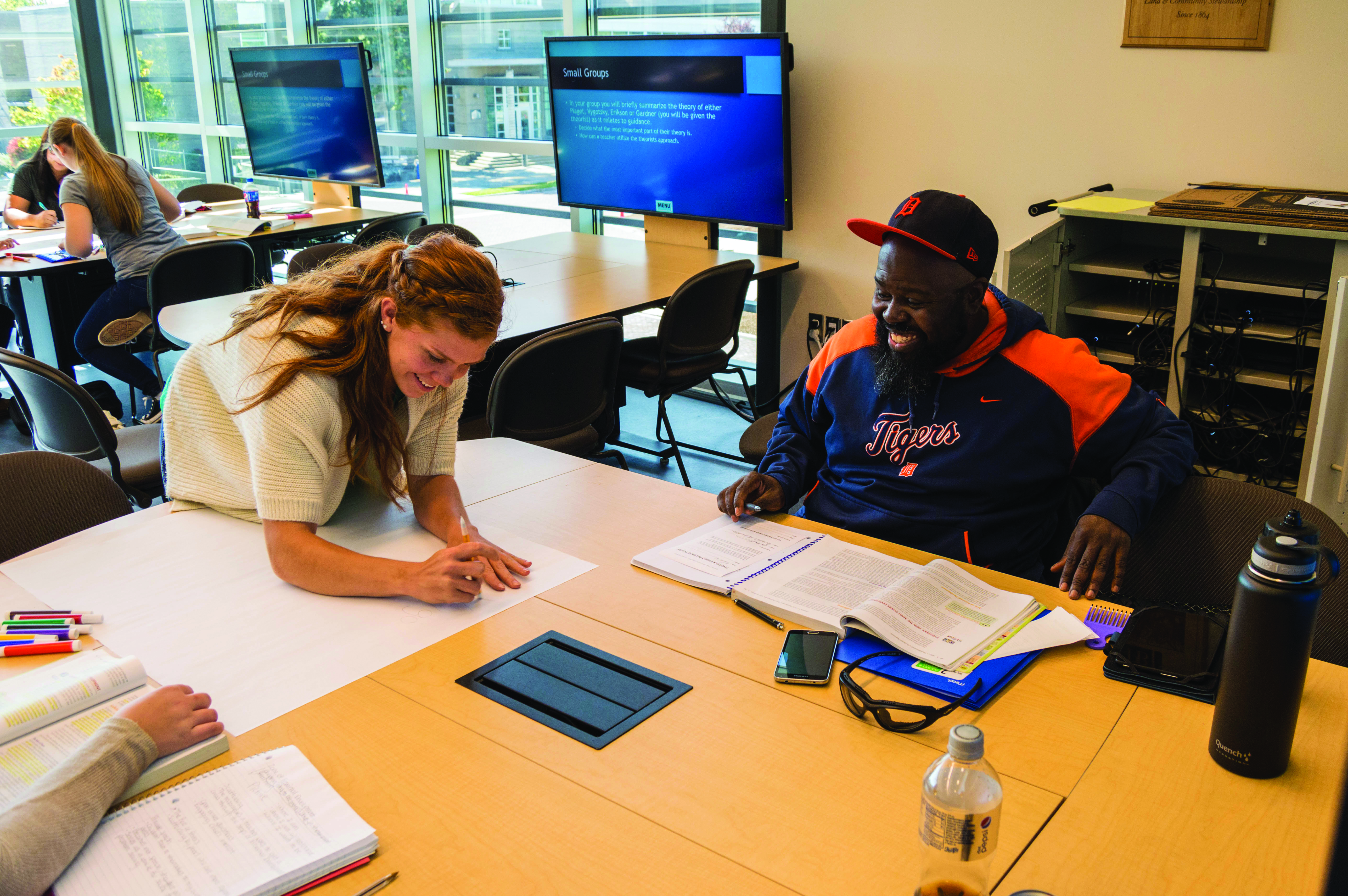 The goal of the program is to prepare teachers who have the knowledge, skills, and dispositions to foster all students' learning. Individuals enrolled in the BAS-TE program will interact and learn from local teachers and superintendents, who will teach, mentor, and guide students through the program.Program Details
Upon certification, graduates will be in the position to affect the future of our communities through educating our youth.
Career Options
Graduates are prepared to be certificated teacher in elementary education or elementary education and special education.
Program Details
The classes offered in the BAS-TE program are designed as hybrid courses, which means each class meets for one class per week with the remaining work completed online.
Classes will be offered in the evenings from 5-8 p.m. Tuesdays and Thursdays with the possibility of Wednesday courses in quarters with more than 15 credits.
Students will complete between 15-18 credits per quarter.
Most students will be able to complete their degree in two years.
Applying for the BAS programs is easy! Applications are now being accepted for fall 2019.
Questions about applying? Contact Enrollment Services at 360-623-8976 or admissions@centralia.edu.
Required Degree
Admission into the BAS-TE program is competitive and merit-based. Meeting the minimum entrance requirements does not guarantee admission as the number of qualified applicants may exceed the number of available enrollment spaces.
In order to be placed into the admissions pool, applicants must complete and submit the following:
All BAS application materials
90 credits at junior-level standing with a minimum 2.5 GPA
Successful completion of:
English Composition I (5 credits)
A college-level math course for which intermediate algebra is a prerequisite and contains quantitative skills distribution
Three classes in EDUC or ECED coursework Note: Starting in fall 2020, education coursework will need to include EDUC& 115 Child Development and ECED& 180 Language and Literacy and five additional credits of any EDUC or ECED coursework.
Additional Admissions Requirements
Office of the Superintendent for Public Instruction (OSPI) Background Check
Passing scores from the WEST B Test (all sections) or an alternative test
Completion of FERPA release to share information with OSPI
Completion of State of Washington required data sheet
General Education Degree Required Courses
The following general education courses must be completed prior to bachelor's degree obtainment. The courses can be included in the two-year degree or be completed during the bachelor's program. Students who have completed the requirements at the time of application will receive preferred entrance consideration.
English 102 - English Composition II (5 credits)
10 credits of Social Sciences
15 credits of Humanities
10 credits of Natural Science (must include one lab course)
Recommended General Education Courses
Math for Elementary Education 1(5 credits and counts as a college-level math)
General Psychology (5 credits and counts as a social science)
US History or Western Civilization (5 credits and counts as a social science)
Public Speaking (5 credits and counts as a humanities)
A biology science course
Tuition
The State Board for Community and Technical Colleges (SBCTC) sets the tuition rate. For the current year's tuition rate, see Tuition & Fees—Applied Baccalaureate Degree Program.
The cost of room and board would be additional.
Financial Aid
For information on applying for financial aid, see Financial Aid.
Scholarships
Students can apply for scholarships online from Dec. 1-March 1. Visit the scholarships page for information and a link to the online application.
Name of program: BAS-TE Alternative Pathway for ParaEducators (Classified Paraprofessional Staff)

Route(s) and Endorsement(s) Offered: Route 1 pathway for classified paraprofessional staff and elementary education with an endorsement in special education

Main address: 600 Centralia College Blvd., Centralia, WA 98531

Delivery method: Hybrid

Delivery format [time]: Evenings

Regions/School Districts Served: Lewis County School districts, South Thurston County

Brief Description of Program: The Bachelor of Applied Science Teacher Education (BAS-TE) program is designed to graduate individuals who are well-grounded in education and training and are prepared to obtain initial teaching certification (K-8) in the state of Washington with primary endorsements in special education and elementary education.

Coordinator Information: Dave White, 360-623-8651, Email Dave White

Estimated Time to Complete Program: 2 years

Prerequisites Prerequisite courses include:
ENGL& 101
A college level math (5 credits)
Three EDUC or ECED courses
Successful completion of each of these courses with a minimum 2.0 grade:
Communication (10 credits)
Humanities (10 credits)
Social Science (10 credits)
Quantitative Skills (5 credits)
Natural Science (10 credits, one course with lab)
Distribution Elective (15 credits)
Sample Cost Breakdowns
Note: Tuition is subject to change due to State Legislative actions
Resident Tuition (15 credits) and fixed fees: $2,674
US Citizen Nonresident Tuition (15 credits) and fixed fees: $2,808
Non US Citizen Nonresident Tuition (15 credits) and fixed fees: $6,207
Books and supplies (estimate): $427
Will this degree prepare me to teach in a high school?
No, the BAS-TE degree is designed to provide certification in kindergarten through eighth grade.

What are the characteristics (disposition) of successful teachers?
Throughout the BAS-TE program, students will be guided on the characteristics and behaviors needed to be a successful teacher. Successful teachers:
Demonstrates professional self-regulation (on-time, present, stays for entire time, and is engaged in learning)
Works productively with faculty, staff, and peers both in and out of class
Demonstrates understanding about others' teaching perspectives (open and nonjudgmental)
Accepts and acts upon constructive criticism
Separates personal and professional issues
Speaks in a manner appropriate to the learning environment
Demonstrates appropriate social skills in professional and social interactions
Demonstrates a commitment to teaching
Demonstrates appropriate command of both oral and written communication
Relationships with students, peers, supervisors, family members, staff, and faculty are emotionally, verbally, and physically appropriate
Demonstrates an ability to work with ethnically diverse populations
Demonstrates an ability to work with exceptional learners
Demonstrates initiative
Demonstrates enthusiasm for his/her content area
Exhibits a belief that all children can learn
Treats all students fairly according to their needs
Holds all students to high expectations
Demonstrates commitment to lifelong learning
Demonstrates commitment to professional growth
Demonstrates scholastic integrity
Demonstrates respect for the teacher's role and school environment
Do I need to be available during school hours to complete this program?
Yes, every quarter, students in BAS-TE complete practicum courses that require hands-on work in a school setting. Also, the last two quarters of the program require full-time student teaching during the school district's hours.

What are the requirements for receiving an initial teaching certification?
The following tests are Washington State requirements and are NOT administered by Centralia College. Students must pay for the associated costs out-of-pocket.
Successful completion of the West B (prior to starting the program) - approximate cost $155
Successful completion of the West E (elementary education endorsement tests) - approximate cost $95
Successful completion of the NES (special education endorsement test) - approximate cost $155
Successful completion of EdTPA - approximate cost $300
Successful completion of the BAS-TE requirements
Fingerprint and background check - approximate cost $65
State Certification Fee - approximate cost $118