From Running Start to a bachelor's in teaching
Levi Sathre uses Running Start and scholarships to earn a a bachelor's degree debt-free
Former Running Start student Levi Sathre is a student-teacher at Adna Elementary School who is completing his bachelor's degree at Centralia College. He'll turn 20 in May, just before his graduation in June. And, he did it all debt-free.
"When I was getting done with my associate degree, I was searching for colleges. The teaching program here had sparked a lot of interest in me," Levi said. "I was confident when I signed up for the program here, I'd get good teaching on how to be a teacher."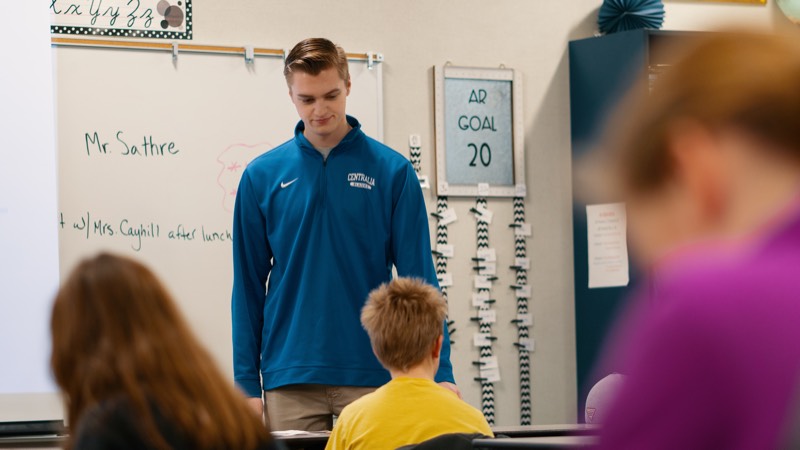 As the cost of universities goes up, staying home and getting a scholarship made Centralia College an easier choice for Levi.
"Really, the scholarships have been the bedrock of my success at the college," Sathre said. "It's helped me immensely."
Levi received the Baxter Killian Memorial Scholarship for the 2019-20 academic year. Before jumping into CC's applied bachelor's degree in Teacher Education, Levi was working part-time. Without the scholarship, juggling the requirements of the teaching program would have been more difficult.
"As the requirements for the program became clear, without the scholarship, I'd have to be working full time or overtime," Sathre said. "That, in effect, affects my teaching."
Running Start also made a huge difference for Levi, allowing him to attend CC tuition-free for two years while he was still in high school.
"I made that choice to do Running Start and it's paid off in the long run," Sathre said. "I was able to get scholarships…those have helped me pay for my now bachelor's degree. It's been awesome."
Looking down the stretch, Sathre will be able to finish college debt-free and with his bachelor's degree in teaching. He thanks the community for playing a role in making it happen.
"There's a lot of good people who donate to the college," Sathre said. "The donors are the seeds and the students are the trees. The community is investing in the lives of students. It's a big deal."