Tickets Available for Elk Hunt Raffle
Tickets available now for annual Scholarship Elk Hunt Raffle
Tickets for the Dave Sherwood Memorial Scholarship Elk Hunt Raffle are on sale until July 27 at selected outlets across Lewis and Thurston counties.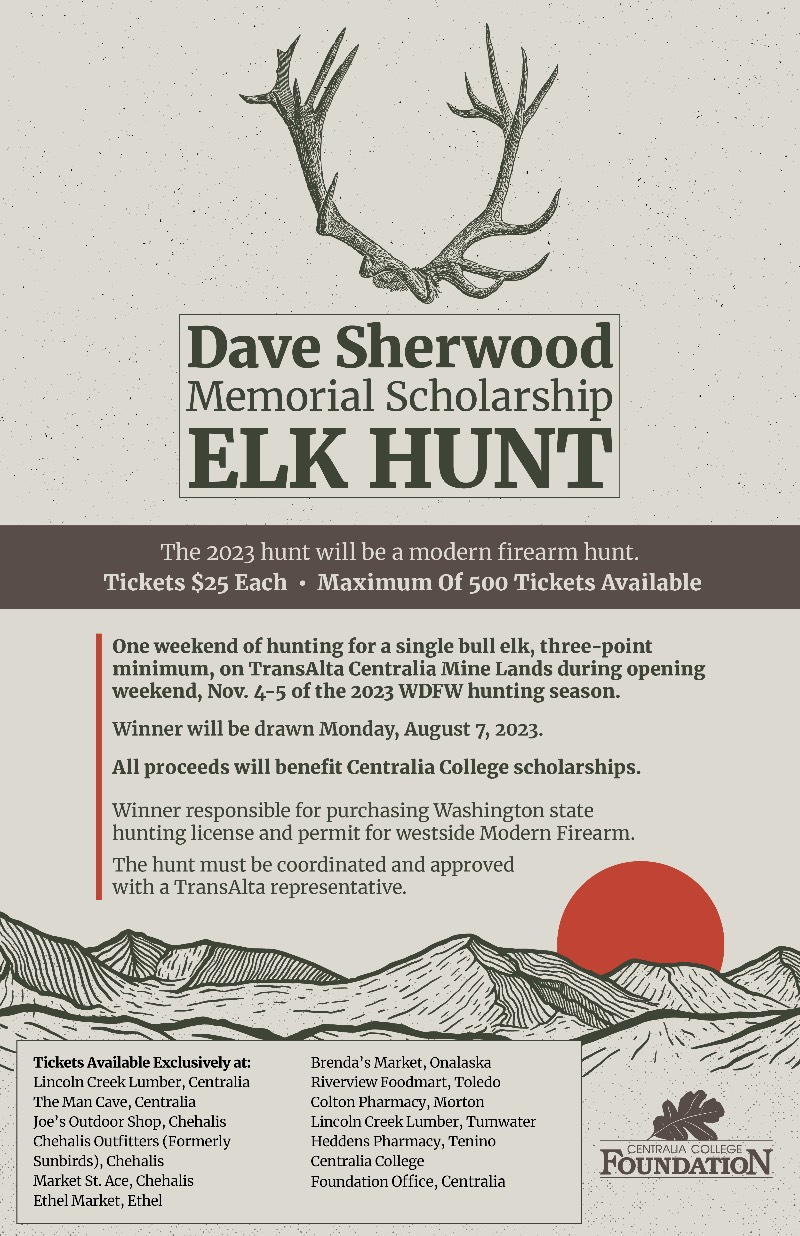 Since 2012, the raffle has raised more than $47,000 for student scholarships to Centralia College.
Raffle tickets are $25. The winner will be allowed to hunt for a big bull elk (minimum three-point) on TransAlta Centralia land. The hunt is a modern rifle hunt set for opening weekend, Nov. 5-6.
The winner will be drawn Aug. 1 and notified. All proceeds go toward a Centralia College scholarship in Dave Sherwood's name.
The winner is responsible for buying a Washington hunting license and permit for westside Modern Firearm. They will be accompanied by a TransAlta representative during the hunt.
Tickets are available at the following retail locations:
Colton Pharmacy in Morton
Ethel Market in Ethel (Highway 12)
Hedden's Pharmacy in Tenino
Joe's Outdoor Sports, Lewis County Mall in Chehalis
Lincoln Creek Lumber in Centralia
Lincoln Creek Lumber in Tumwater
Market Street Ace in Chehalis
Riverview Foodmart in Toledo
Brenda's Market in Onalaska
Chehalis Outfitters (formerly Sunbirds)
The Man Cave in Centralia
This raffle and elk hunt are in honor of Dave Sherwood, who passed away from a tragic accident while hunting for elk near Mount St. Helens in 2011. He was a popular and respected manager at the Centralia TransAlta plant.
For more information on the Elk Raffle, contact the Foundation office at 360-623-8942 or ccfoundation@centralia.edu.